Scent Description and Scent Notes:
Cherry Chai — Juicy seasonal cherries and mouthwatering red berries blend with warm chai spices, vanilla, clove and cardamom for a delicious twist to a traditional chai scent.  
Strawberry, Red Berry
Cherry, Cinnamon, Almond
Chai Spices, Vanilla, Clove, Cardamom
"Our candles are part science, part art. The crucial part of the process is getting the fragrances absolutely right."
— President/CEO Michael Kittredge III
Customer Reviews
Write a Review
Ask a Question
06/10/2022
Laurie B.

United States
Cherry chai
Tho this scent is strong its not my favorite. The chai in it is good but the cherry part is over powering And not an authentic cherry to me. My least favorite in this order. To each their own tho
04/03/2022
Chasity W.

United States
I recommend this product
I need more!!
Cherry chai is a perfect blend of very sweet cherries & creamy vanilla & almond with that chai spice mix in and a hint of clove. I'm a lover of all things cherry and this is the Best cherry I've ever had. I will buy more. If you love sweet cherries and creamy vanilla almond scents you will adore this one. And the strength & throw on this one are very good.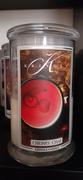 03/02/2022
Ashley W.

United States
I recommend this product
First Kringle Candle Purchase- Didn't Disappoint!
This was my first Kringle Candle and it didn't disappoint. Burns clean, throws wonderfully. Filled my high-ceiling living room and permeates down the hall. On cold, the fragrance smelled like a heavy, syrupy cherry; but once lit that heaviness fades into a pleasant and creamy chai scent w/subtle undertones of cherry. I'd describe the throw as medium strength- filled the living room and hallway without being cloying. Overall, as indicated by the title, it doesn't disappoint!
01/04/2022
Purple L.

United States
I recommend this product
Strong cherry scent
Lots of cherry scent not so much chai. Super throw, clean burning.
11/23/2021
Eve E.

United States
Cherish Chai Candle
This is the most awesome chai Candle I've ever smelled with a twist of cherry I absolutely love it the only downfall is I didn't buy more when they were on sale