Scent Description and Scent Notes:
Candy Cane Lane — Get in line to stroll down Candy Cane Lane and enjoy light as air meringues filled with cool frosted peppermint, vanilla sugar and a dusting of sweet cocoa.
Peppermint, Cocoa
Vanilla, Peppermint
Sweet, Sugar Crystal
"Our candles are part science, part art. The crucial part of the process is getting the fragrances absolutely right."
— President/CEO Michael Kittredge III
Customer Reviews
Write a Review
Ask a Question
04/28/2022
CINDY S.

United States
04/17/2022
Victoria M.

United States
Candy Cane Wax Melts
Love the scent! It's not overly sweet and very pleasant! It's not a strong peppermint note, more of a soft peppermint and fluffy marshmallow. The reason I can't give the wax melts 5 stars is because the throw wasn't on the mild side. If it was able to fill up my small home, it would've been perfect.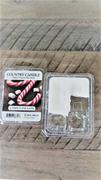 03/25/2022
Leslie M.

United States
I recommend this product
Candy Cane goodness
I really like this one, it is a bit different from traditional candy cane scents! It does have a bit of sweet/chocolate hints to it, even if it isn't supposed to, it does! I really love this one, like a peppermint hot chocolate almost. Throw is good, in my bathroom about a 7/10!
01/23/2022
Victoria M.

United States
Nice Fragrance
I really liked this fragrance, but I just wish that the throw had been stronger. I actually purchased this, and the Hot Chocolate wax melts and I wish the throw for these was as strong as those and that would make it 5 stars for me
01/08/2022
Jackolyn G.

United States
I recommend this product
Best fragrance ever!
If you love mint…and I do…stock up…wonderful fragrance!